And the Emirate of the Asir region said, in an official statement, that "a reference to what was circulated on social media of videos and pictures showing an incident inside the House of Social Education in Khamis Mushait Governorate in the Asir region. A committee to investigate the incident, investigate all parties, and refer the case to the competent authority."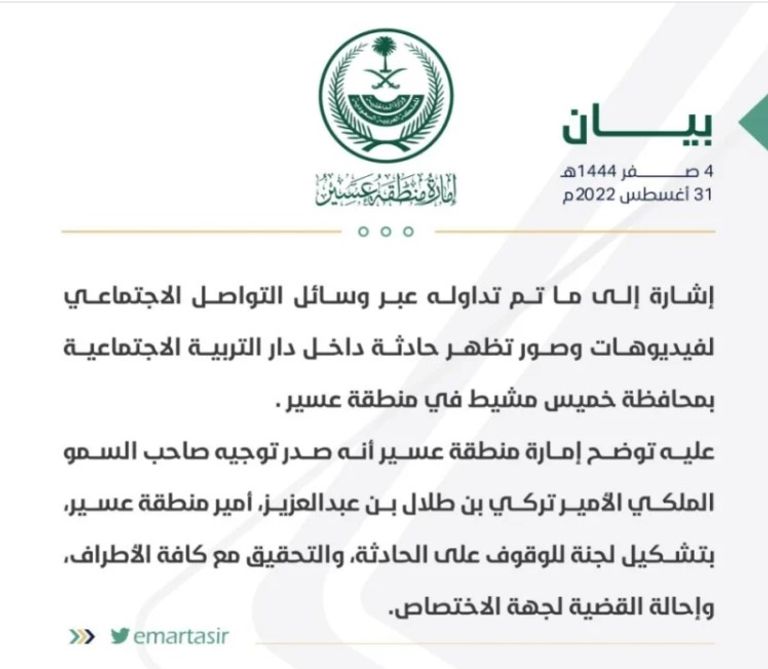 A video of abuse of orphan girls sparks anger in Saudi Arabia, and security men stormed the Khamis Mushait orphanage, and the Prince of Asir intervened (video)
The full story of the "Dar Al Tarbia" incident
The video clips that were widely circulated during the past hours sparked a storm of anger on social media.
The hashtag "# Khamis_Mushait_orphans" topped the list of the most prominent topics in Saudi Arabia that were interacted with on Twitter on Wednesday morning.
And it appears in the circulating video clip that a number of people in civilian and military clothing entered the Social Education House in the Asir region, some of them carrying sticks, and women in black uniforms were assaulted.
(function(d, s, id) {
var js, fjs = d.getElementsByTagName(s)[0];
if (d.getElementById(id)) return;
js = d.createElement(s); js.id = id;
js.src = "//connect.facebook.net/en_US/sdk.js#xfbml=1&version=v2.4";
fjs.parentNode.insertBefore(js, fjs);
}(document, 'script', 'facebook-jssdk'));