The "Turkish Red Crescent" organization has warned of factors that may cause the suspension of aid it provides to refugee families in Turkey.
Yesterday, Friday, August 14, the Red Crescent published, on its official Facebook page, a number of reasons that it said could stop the aid.
Aid stops for families that no longer meet the program's criteria, as a result of a change in the family structure (age and number).
And in the event of a change in the employment record (social security record), or if the family owns high-value property.
The Turkish Red Crescent also stops aid, in the event that the applicant obtains Turkish citizenship, or changes his registered residence address and moves to another region or state.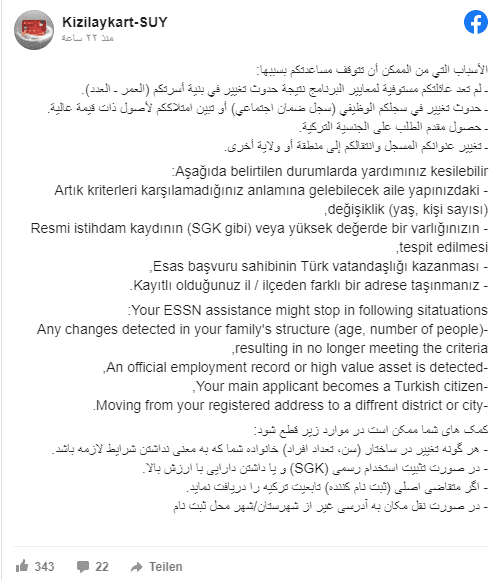 In another post, Al-Hilal asked those who changed their phone number to review the Social Solidarity Endowment Office, or the Turkish Red Crescent Service Center, where the request was submitted.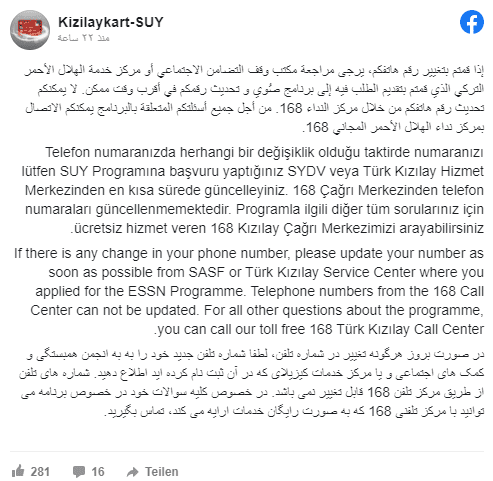 Families who meet the criteria of the social support program receive monthly cash assistance of 120 Turkish liras for each family member, using the card provided by the Red Crescent.
The organization warned against relying on social networking sites, or other messages or directives, as a source of information about the social support program.
(function(d, s, id) {
var js, fjs = d.getElementsByTagName(s)[0];
if (d.getElementById(id)) return;
js = d.createElement(s); js.id = id;
js.src = "//connect.facebook.net/en_US/sdk.js#xfbml=1&version=v2.4";
fjs.parentNode.insertBefore(js, fjs);
}(document, 'script', 'facebook-jssdk'));