Social media was covered with publications from the royal party's preparations, praising the follow-up of Jordanian customs and traditions at the ceremony, and some say that the Jordanian monarch was keen to leave his daughter Iman from his palace, as is the case with Jordanians.
And Queen Rania had previously published, through her official account on Instagram, a video clip of the life stages of her daughter, Princess Iman, saying, "After a week, God willing, I will see you as a bride … I protected you in the name of God, O Iman, O Rehana Al-Dar … May God grant you success and enlighten your path." Thank you to the creative artist, Elissa, for the dedication, and to the great artist, Marwan Khoury, for the words and melodies… A melodious voice and expressive words that touch the heart."
Pictures of Princess Iman Abdullah II's marriage
Photos of the wedding of Princess Iman, daughter of King Abdullah II, King of Jordan, were released, and the crowd was excited. Pictures were released showing the stunning wedding dress and dazzling equipment at the henna ceremony. Despite the imminent date of the royal wedding, the details do not stop at completion. Where Her Majesty Queen Rania, wife of King Abdullah II, organized this party with all craftsmanship, and made it an unforgettable night. And now the masses are eagerly looking forward to seeing the bride in her white dress on her wedding day, and until then we review the bride's life with its most prominent stations.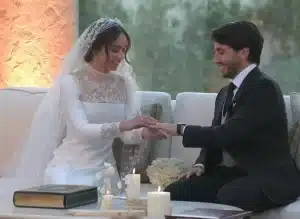 (function(d, s, id) {
var js, fjs = d.getElementsByTagName(s)[0];
if (d.getElementById(id)) return;
js = d.createElement(s); js.id = id;
js.src = "//connect.facebook.net/en_US/sdk.js#xfbml=1&version=v2.4";
fjs.parentNode.insertBefore(js, fjs);
}(document, 'script', 'facebook-jssdk'));