"A human flood" receives Erdogan in the most prominent strongholds of the Turkish opposition (witness) – Turkey today
Turkish President Recep Tayyip Erdogan recorded a strong return to his election campaign, after a health problem that afflicted him a few days ago, as he was greeted by a crowd, the first of its kind, in the coastal city of Izmir, the most prominent stronghold of the opposition Republican People's Party.
combat show
The BBC said that Erdogan gave a combative show, in which he reassured his supporters, and worried his opponents, with his speech that lasted for 40 minutes, with a strong voice that removes fears about his health after an illness he suffered a few days ago.
She pointed out that the Turkish president mocked the Turkish opposition, and showed that he was the only one capable of achieving growth for Turkey, stressing that the historic gathering in Izmir left a great impression abroad as well.
The Turkish president published a picture of the crowds that gathered to attend his speech, and attached it to the phrase "Magnificent Izmir".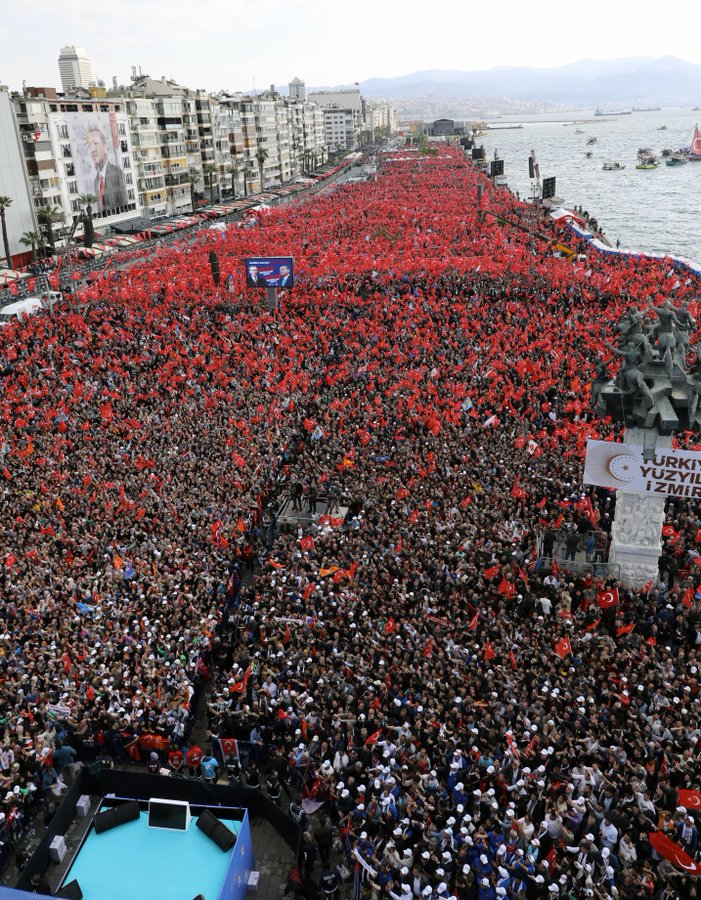 The pioneers of social networking interacted with the "human flood" that gathered to attend Erdogan's speech, while others confirmed that the photos were a slap to the six-party opposition table and its candidate, Kemal Kilchdar Oglu, who is considered the most prominent competitor to the Turkish president in the presidential elections on May 14.
Gündoğdu Meydanı'nda tarihi gün#izmir ERDOĞAN diyor

Adam Kazanacak pic.twitter.com/zqdJcpb6LK

– Erdal Bayansal (@ErdalBayansal) April 29, 2023
On Saturday, Turkish voters in 10 new countries around the world began heading to the polls to participate in the presidential and parliamentary elections, in Turkish embassies and consulates.
According to the Supreme Elections Committee, the number of those entitled to vote abroad is 3 million 416 thousand and 89 voters, including 277 thousand and 646 expatriates participating for the first time, in addition to 2435 voters if the presidential elections remain for the second round, out of the total number of Turkish voters, who It amounts to 64 million and 113 thousand and 941 voters.
Erdogan is still able to attract large crowds in Izmir, an opposition stronghold pic.twitter.com/pBE5XDPs5S

– Ragıp Soylu (@ragipsoylu) April 29, 2023
(function(d, s, id) {
var js, fjs = d.getElementsByTagName(s)[0];
if (d.getElementById(id)) return;
js = d.createElement(s); js.id = id;
js.src = "//connect.facebook.net/en_US/sdk.js#xfbml=1&version=v2.4";
fjs.parentNode.insertBefore(js, fjs);
}(document, 'script', 'facebook-jssdk'));