Important remarks by President Erdogan in front of a large crowd at the electoral rally in Istanbul
On Sunday, at least 1.7 million people participated in the electoral rally of Turkish President Recep Tayyip Erdogan in Istanbul.
The massive participation in the gathering, which included the opening ceremony of the first phase of the "People's Park" at the site of Ataturk Airport, was attended by President Erdogan.
Erdogan said in his speech to the masses: "Yes, now bring me the official number (for the participants in the electoral rally), the official number is one million and 700 thousand."
Erdogan addressed his speech to Western newspapers and told the masses: "Western newspapers are now watching us here, and you are the ones who will give them the answer. The faces of those who plot against this country are bad.
Erdogan added: Are they concerned about the unity of the people and the country? They go to complain about their country abroad, can good come at the hands of these?
He said, "We do not turn a blind eye to the high prices, but we are following this issue closely, and we will all see the end of these problems with time."
Erdogan continued his speech and said: "Didn't (supporters of the opposition) enter the mosque in Dolma Beheste with beer bottles? Bye bye Kamal, if you get drunk from drinking, you will not succeed, for my people will not leave the field to drunks and drunks.
He added, Bye Bye Kamal, go out and tell us who you met in restaurants and gas stations in the United States.
The president continued his speech, saying: "All countries in the world raise interest rates, but we lower them, because we want investors to come and invest in our country.
Erdogan promised that in July he would announce a comfortable increase in the salaries of employees and retirees.
In his speech, the Turkish president said: "The opposition supports deviant currents and homosexuality. As for justice and development, the family is a sacred entity.
Erdogan asked: Where is the mayor of Istanbul? You do not see him in Istanbul. Rather, when a disaster occurs in the city, you see him either outside the country, or he went on vacation in Bodrum.
He emphasized that his party knows very well what our youth desire, and thanks to our projects, our youth will not bear the burden of its future.
Erdogan promised hundreds of projects for Istanbul in the second centenary of Turkey.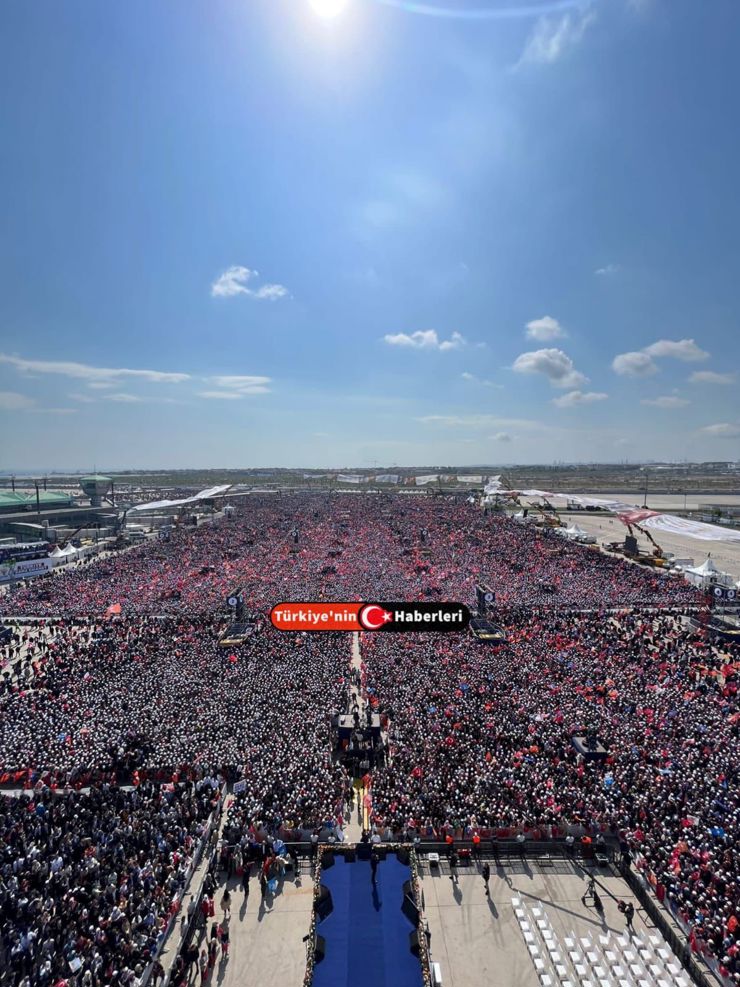 On May 14, Turkey will witness general and presidential elections, in which current President Recep Tayyip Erdogan, a candidate for the People's Alliance, and Kemal Kilicdaroglu, a candidate for the Ummah Alliance, will compete.
Muharram Ince, head of the Balad Party, is also running in the presidential elections, and Sinan Ogan, a candidate for the "ancestors" coalition.
The number of those eligible for presidential and parliamentary elections is 64,113,941, according to the Supreme Elections Committee.
(function(d, s, id) {
var js, fjs = d.getElementsByTagName(s)[0];
if (d.getElementById(id)) return;
js = d.createElement(s); js.id = id;
js.src = "//connect.facebook.net/en_US/sdk.js#xfbml=1&version=v2.4";
fjs.parentNode.insertBefore(js, fjs);
}(document, 'script', 'facebook-jssdk'));