Tens of thousands of posts on social media were reaped by a photo whose publishers claimed it showed a baby with a white beard.
However, the image is in fact modified using an application that adds signs of aging to the images, according to Agence France-Presse.
And added to the image of the newborn child, whose face is covered with a white beard, a recitation of verse 11 of Surat Luqman: "This is God's creation, so show me what those besides Him created."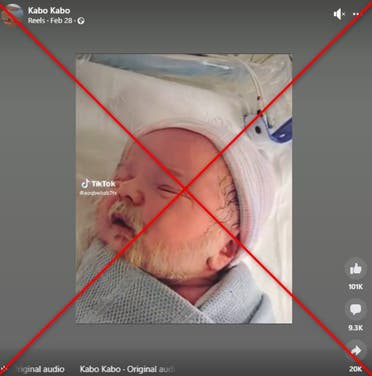 While the publication received more than 20 thousand posts from only one page and thousands of comments that approved what was stated in it, other commentators denounced the use of verses from the Qur'an with a fake image.
Face App
In addition, the search was directed to the original version of the photo, published in a blog, along with photos of other children.
The newborn child does not have any beard or gray hair, which raises suspicions that the image has been modified using applications that add features of aging to faces, the most famous of which is Face App.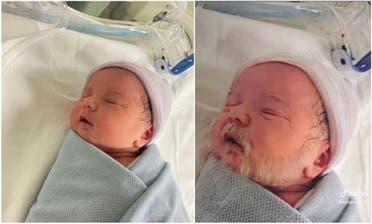 Subsequently, the news checking service in France Press uploaded the image to the Face App application with the addition of aging effects, and the result was exactly the same as the image used in the misleading publications.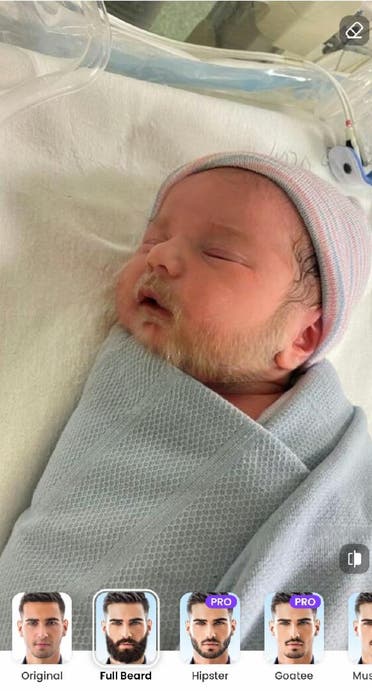 (function(d, s, id) {
var js, fjs = d.getElementsByTagName(s)[0];
if (d.getElementById(id)) return;
js = d.createElement(s); js.id = id;
js.src = "//connect.facebook.net/en_US/sdk.js#xfbml=1&version=v2.4";
fjs.parentNode.insertBefore(js, fjs);
}(document, 'script', 'facebook-jssdk'));